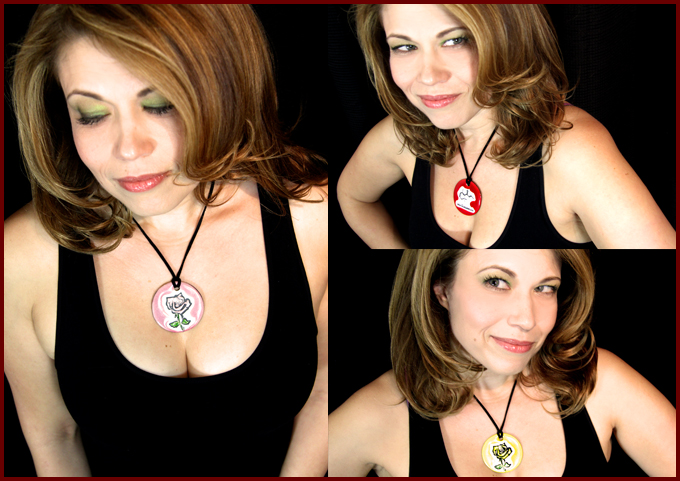 Surly girl of the Month: Sue Gisser. Sue is modeling our new line of Surly Scents™. You can see other previous models on our Surly Models page. Photography © Amy Davis Roth 2012
---

---
Surly-Ramics is Art You Can Wear ®
We create beautiful and unique, handmade ceramic jewelry for men and women. Inspired by science and nature. Please take your time and look around our site and visit our store.
We have a really great store set up on Etsy with a huge selection of our ceramic jewelry. We list new items daily and ship them priority mail in pretty little gift boxes. I really recommend checking it out. It is a great way for you to pick out individual pieces of our handmade ceramic jewelry that are ready to ship next day. It has been a great way for us to show our latest designs and to provide the customer with a more personal experience with the jewelry along with a faster turnaround.  We use PayPal for safe shopping which means we accept all major credit cards and you don't have to be a member of PayPal anymore to use the system to pay for items so it is even that much easier! Etsy itself is a great marketplace for handmade items and art and worth checking out.
Small pendants are $18-$25
Medium pendants are $20-$30
Large pendants are $22-$48
Earrings are $22-32
Bracelets are $38
Bar or "Chest Plate" Necklaces $25-48
Check our online store for the latest designs!
All pendants come ready to wear with their own soft faux suede cord.
Optional chains and other color cords are available in our shop.